Visit us on campus
We're excited to welcome you to campus for in-person tours. Come see us and find out what the University of Michigan and the College of Engineering have to offer.
---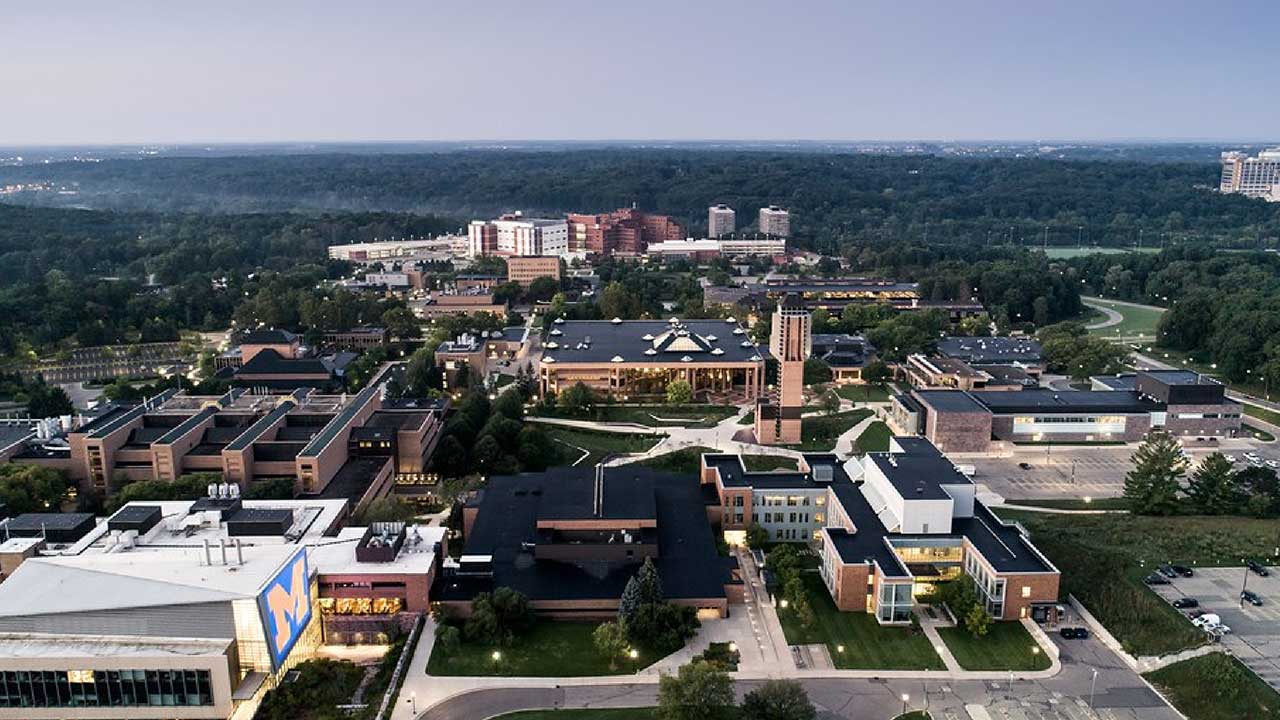 Transcript
[Music]
Hi, and welcome to the University of Michigan's College of Engineering. I'm Raul and I'll be your tour leader today. I hope you'll enjoy the video we've created especially for you.
Right now what we're looking at is the Duderstadt Center. The Duderstadt library is one of our more popular libraries here on North Campus and is fondly referred to as The Dude.
It is open 24/7 throughout the year, which means whether you like studying at 2 p.m. or 2 a.m., The Dude can be a great place for you.
There are so many more things to do than just study in our libraries. For example, our Fabrication Studio is available where you'll be able to work on class and personal projects, and you'll be able to use different laser cutters, 3D printers and tools.
We are now at the Bob and Betty Bester Building. Right now our CS faculty and students in cyber security are working to make our election systems more secure.
This building is an excellent example of demonstrating the progression of engineering.
At our entrance, we have a very small piece of the ENIAC, one of the first digital computers ever built. On the other side, we have a completely programmable staircase that our students can explore and hack into.
You can see art sculptures all over North Campus and we love to showcase our students creativity and projects. This is believed to be the world's largest stationary, hand-solvable Rubik's cube.
It was imagined, designed and built by two teams of engineering undergraduate students over the course of three years.
Here are some examples of our classrooms. We try to create a dynamic and interactive learning environment. Most of our classes are recorded making it extremely easy for our students to review and study. You'll be raising intriguing questions in lecture and following discussions with professors that have the potential to transform into your own research projects.
What we're looking at right now is the structures lab. It's one of our testing facilities.
Our engineers use a combination of the strong wall, floor, hydraulic pumping mechanisms and computerized models to simulate real world conditions inside.
We have strong connections with industry here at Michigan and the FXB atrium is a shining example.
In 1965, NASA sent Gemini 4 into space which had the first all-Michigan crew. One of our alumni was the first American to perform a spacewalk. A few years later as part of the Apollo 15 mission an all-Michigan crew was the fourth team to land on the moon. Next time you're here on campus you'll have a chance to see a small piece of outer space in the form of our very own moon rock.
Right around the corner from the FXB we have M-air, a 10,000 square foot, four-story netted scientific facility that enables the study of autonomy and collaborative robotics in the wild, with emphasis on dealing with the full range of Michigan weather.
This is the Ford Robotics Building. It's the home of Michigan Robotics. The 140,000 square foot complex will house classrooms, offices, a startup-style open collaboration area and tailored lab space for a variety of robotic technologies. The building will include a three-story fly zone for autonomous aerial vehicles, an outdoor obstacle course for self-driving cars and
dedicated space for rehabilitation and mobility robots, such as prosthetics and exoskeletons.
And if that wasn't enough for you, just down the road we have Mcity, our own advanced mobility research center! Michigan created Mcity to realize the potential for emerging mobility technologies.
Our partners in industry, government and academia are Mcity's foundation and the reason it has become a leader in connected and autonomous vehicles.
This is the Wilson Student Team Project Center. It empowers student teams by providing a facility in which they can experience hands-on development and fabrication. It allows members to use a practical application of engineering.
The Wilson Center provides groups with a unique opportunity to interact with one another, share ideas and showcase their projects — like our Solar Car team, M-Fly, Baja Racing and so many more.
We are now inside the Lurie Nanofabrication Facility, where our researchers work on the nanometer scale. If you're wondering, one nanometer is about the length that your fingernails will grow in one second. The LNF is here to provide our faculty and students access to advanced nanofabrication equipment.
The last thing I wanted to show you is our electrical engineering and computer science building. Here we are creating the technology that puts the smart into smart electronics and constantly pushes the boundaries of research. One of our more recent projects showcases this very principle. This is Michigan Micro Mote — M3 for short.
M3 is the world's smallest computer and has opened the door to a completely new class of computing.
Thank you so much for watching! Whether you're exploring the cutting edge of research, solving giant Rubik's cubes or just studying at The Dude, this is just a small sample of what we have to offer.
We hope to see you on campus soon!
05:23Go Blue!
---
Prospective undergraduate info session
You can learn more about our campus, programs, and facilities from the comfort of your own home. Check out the video below for a quick overview of our undergraduate experience.
Transcript
[Music]
>> DAVID: Hi, I'm David Betts, Assistant Director of Admissions for Michigan Engineering.
>> MIKE: My name is Mike Oelke, Assistant Director of Admissions for Michigan Engineering.
>> STEPHANIE: Hi! My name is Stephanie Wineland and I am a Recruitment andAdmissions Coordinator for Michigan Engineering.
>> MIKE: We're all looking forward to the day that we can invite you back to campus for a tour.
>> STEPHANIE: Until then we hope you'll enjoy this video.
>> DAVID: Near the end of this presentation, we'll note a few specific changes to the application, submission and review process that were necessitated by the COVID-19 pandemic. The Office ofUndergraduate Admissions has created an application changes web page that will provide additional information. But before we get to those changes let's talk a little bit about Michigan Engineering.
>> STEPHANIE: What better place to start the conversation than Ann Arbor, Michigan. It's a beautiful place to live and a great place to learn as well. We're a community of about a hundred and twenty thousand people in southeast Michigan, about 45 miles west of Detroit. You should come visit us when you get the chance! If you're interested in rankings,U.S. News and World Report calls us the number six college of engineering inside the number three public university. And by my ranking, we have the number one mac and cheese pizza in the entire world. [Laugh]
U.S. News also ranks some of our academic departments. You'll see our 17 majors on your screen now. You'll notice that not all of them have rankings. This is because U.S. News doesn't rank every program that we have to offer. Rankings are great, but we want you to consider more when you're thinking about where you might want to attend a university. For example if you were to write your "Why Michigan?" essay and say I want to attend the University of Michigan because they have the number two environmental engineering program, we're going to think that you probably need a better reason than that. So think more about "what are the unique qualities that attract you to a place like this?" Next we're going to talk about what it means to be a Michigan Engineer. Spoiler alert, it's pretty cool. When you complete your application, you'll be applying directly to the College of Engineering at the University of Michigan. That means that you know you'll be an engineering student for all four years that you're here on campus.Your first year, you're going to have a fairly common curriculum. You'll take a math class, like Calc 1, Calc 2, maybe Calc 3 or differential equations. You'll take a science class like Physics 1, Physics 2, or Chemistry. You might take an elective if you have room for another class in your schedule. You also take two specific introductory engineering classes in your first year. Engineering 101 is a computer programming class. You'll study both C++and MATLAB. In Engin100 the main concepts are to design, build and test, so you'll be able to work on real engineering design right away in your first year. At the end of your first year, as long as you are in good academic standing, you can declare whichever of our 17 majors that you're interested in.
>> DAVID: In addition to the classes you'll take during that first year and beyond, being at Michigan Engineering gives you access to a host of opportunities that can enrich your life and academic experience. Extracurricular organizations give you the chance to meet students from across disciplines, participate in activities that appeal to you, and in the case of many engineering student organizations, you get to design, build, test and sometimes compete in ways that are going to benefit your academic journey. There are over 1,600 student organizations university-wide, many of them, about a hundred, are affiliated with the College of Engineering. Many of those engineering organizations are housed in the Wilson Student Team Project Center, a 20,000 square foot workshop. Available to engineering design teams 24/7, the Wilson Center is home to approximately25 teams, like the human-powered submarine, solar car, M-Fly, concrete canoe and more. As a Michigan Engineer, you'll also have the chance to conduct research. The University of Michigan has the largest research budget of any public school in the United States and the second largest budget among any university, public or private. As you begin your academic career, the easiest way to get involved in research is through UROP, the UndergraduateResearch Opportunities Program. You'll be able to select projects from among the social sciences as well as natural sciences and engineering. Since engineering is a global profession, we want to give you the opportunity for international experiences. Through IPE, International Programs in Engineering, we can help you work, study, research or volunteer abroad. Michigan Engineers can also take advantage of our Central Campus partner CGIS,The Center for Global and Intercultural Study, and you can combine your international experience with a bit of coursework to earn the international minor.
>> MIKE: Now let's talk about what happens upon graduation from MichiganEngineering. In general, we find that our students are quite successful after graduating. Around 97% of students will be either employed or in continuing education following a couple months after graduation. The average starting salary is around $83,000, which is not bad for a 21 year old with a bachelor's degree. For context we have about 6,000 undergraduate students in the College ofEngineering. Every year around 450 different companies will come to campus, and last year we had over 4,000 on-campus interviews. So there are plenty of opportunities to interact with industry while you're here.Speaking of which, these are the top hiring companies from last year. These companies hired more Michigan Engineers than any other place. Amazon took the top spot, in number one, followed by General Motors, Microsoft and Ford MotorCompany. Across all of our 17 majors, you'll find that students are receiving employment offers at a very high rate.
>> STEPHANIE: So now that we've talked about what it's like to be a Michigan Engineering student and what it's like to be an alumni, now we have to talk about what it's like to apply. We'll start off with the basic application information. We accept both the common application and the coalition application. We don't have a preference on which one you submit, but please only submit one. If you are applying during the 2020 to 2021 school year, the application deadlines are going to look a little different. The application will open up to seniors on August 1st. Seniors, you have from August1st until November 15th to apply in the early action window. If you apply byNovember 15th and get all of your application materials submitted by that date, then you will receive a decision by late January. Early action is non-binding and non restrictive. This means that you can apply to any other university that you want to and you are never obligated to attend the University of Michigan. No matter when you receive that acceptance letter you have until May 1st to decide whether or not you want to enroll at Michigan. If you decide not to apply in the early action window, you can apply any time between November 16th andFebruary 1st. February 1st is the final date by which you can apply to the University of Michigan. If you apply in that regular decision window, you'll get your decision sometime by early April. You don't know when exactly you're going to get that decision — we call that modified rolling admission. We will release your decision any time between the moment you apply and early April.
>> MIKE: When reading your application, the University of Michigan utilizes a holistic review process. That means that we're looking at a lot more than just your GPA and your test scores. With that in mind, the first thing we want to understand is what are the classes that were offered to you and are you challenging yourself relative to the rigor that was offered at your school? Perhaps you're taking some advanced placement classes, international baccalaureate classes, honors classes, dual enrollment classes, whatever it maybe. If it's offered at your school, hopefully you're challenging yourself relative to that. When thinking specifically about your engineering application, you should also consider math and science coursework, such as chemistry, calculus and physics. It'll be important to have some exposure in those three classes before you graduate high school. Once we get a feel for your coursework, we need to understand how well you did in those courses. Here atMichigan, we're going to recalculate your GPA on a 4.0 scale. That means that any class that you took where you got an A, will be a 4.0. Any B or B plus or B minus is a 3.0. C, C plus, C minus is a 2.0, and on down the line. So the maximum GPA you could have is a 4.0 GPA. That's why your curriculum is so important. A 3.9 GPA in really tough classes looks entirely different than a 3.9 GPA in very easy classes, and we'll be able to tell the difference through the admission process. By the way, if you have any pass/fail grades or credit / no credit grades because of COVID-19, don't worry, we'll take that into context as well. Students will not be disadvantaged for any pass, fail, credit or no credit grades due to COVID-19. Now let's take a moment to talk about your exam scores. Let's get this out of the way first. We know that this year is anything but typical. And that's why we're moving to be more flexible with the way that we accept exams. If you're able to sit for the ACT or SAT, please send that exam score in.You may also self-report that score on your common application or your coalition application and send in the official score at a later date. If you're not able to sit for an ACT or an SAT before the application deadlines, please don't worry. We will still review your application and you'll be at no disadvantage if you're unable to sit for an ACT or SAT.With that in mind, the middle 50% of admitted students last year had these exam scores. Middle 50% means that 25% of admitted students had a 35 or above on the ACT and a 1550 or above on the SAT. It also means that 25% of admitted students had a 34 or below on the ACT and a 1460 or below on the SAT. We don't have any minimum or cutoff scores but we do have a suggestion for your math sub-score. Hopefully on your ACT math, you've received at least a 28, or in yourSAT math at least a 670.
>> DAVID: Our holistic application review will also consider more qualitative aspects. In particular, we'll focus on extracurricular involvement, recommendations and essays. With involvement, we're looking for a glimpse of what you do beyond the classroom, whether significant family responsibilities, jobs, sports, clubs and more. With recommendations, we're looking for someone who can speak well of your abilities in the academic setting.Traditionally this will come from a core academic teacher, however given the disruptions caused by COVID, for this year we will also accept recommendations from others — not a family member — who can speak to your academic aptitude, potential and performance inside the classroom. Essays are for all intents and purposes the only chance for your own voice to come through in your application, so take the time to make sure your thoughts and feelings are clearly presented. You'll be asked to write several essays. First, you'll pick one of the prompts from the common or coalition application. Then you'll answer some university specific questions. You'll be asked to write about what I'll call the community essay. In this you'll identify a community to which you belong and describe your place within it. You could speak about a family heritage, a geographic community, an organization or really any other communities which you feel a significant connection. You'll also be asked to respond to the unique qualities that attract you to the specific undergraduate college or school to which you were applying. That prompt essentially boils down to, "why engineering at Michigan?" We want to know what it is about Michigan Engineering that is specifically appealing to you. Finally, both the common application and coalition application will include opportunities for students to share unique challenges they have faced due to the COVID-19 pandemic. You're welcome to share your specific circumstances or challenges as that will help to provide context as we conduct the application review.
>>MIKE: I hope you enjoyed learning a few things aboutMichigan Engineering. If you have follow-up questions, we're actually hosting frequent live Q&A panels via Zoom. You can head over to our website to sign up for one. I hope to see you there. Until then have a great day.
>> STEPHANIE: Thanks for watching!
>> DAVID: And Go Blue!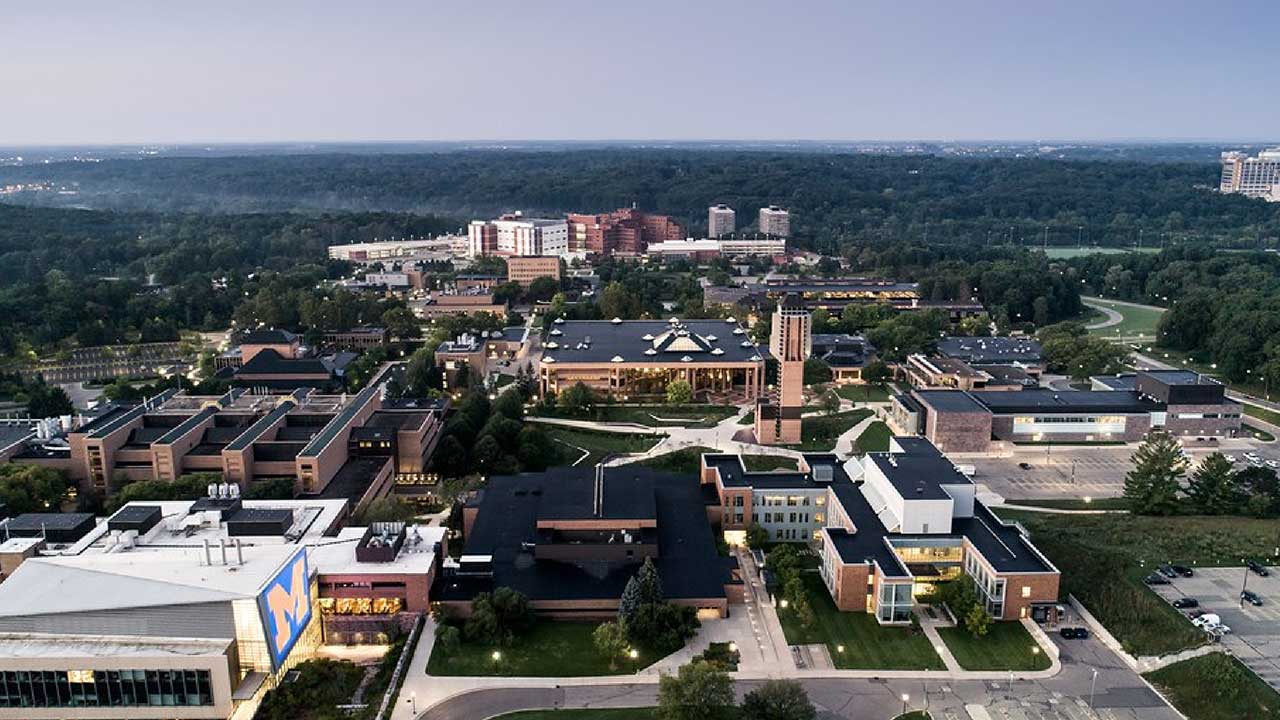 Prospective graduate student department visits
Our departments invite selected prospective graduate students for an in-depth visit to campus to meet with faculty in their area of interest each February or March. These exclusive weekend visits give you a realistic perspective on what your graduate student career at Michigan will look like.
Many students say this experience was key in their eventual choice to study at Michigan. While you're here you'll have the opportunity to:
Tour departments
Talk with faculty
Meet current graduate students
Talk to peers from across the country
Explore Ann Arbor
Travel & lodging: we have it covered
Once you have been invited and register online, you will receive all necessary travel information immediately after you submit your RSVP. This includes:
Travel agency for booking your free flight
Hotel information
Airport-to-campus shuttle service information
What to bring
The weather in Michigan in March can vary widely. Check the forecast and bring hats, gloves, a heavy coat and boots if necessary.
Casual clothes are appropriate for all visit activities, unless you're otherwise notified by your department.
Wear comfortable shoes.
Engineering department visit tentative schedule
Thursday
3-7 pm: Arrival, registration (light snacks) and welcome social – DoubleTree by Hilton-Ann Arbor North
Evening: Individual department dinner and activities determined by department
Friday
6:30-8:30 am: Breakfast – DoubleTree by Hilton-Ann Arbor North
Morning/Afternoon: Department events (faculty appointments, lab tours, meet with current graduate students, etc.) – U-M North Campus
Evening: Individual department dinner and activities determined by department
Saturday
9:30-11:00 am: Farewell breakfast
Noon-Onward: Activities for select departments
12:00 pm-Onward: Depart for Detroit-Metro Airport
---
NOTE: A detailed schedule for the entire weekend will be emailed to you prior to your visit.
Buildings and labs
North campus is home to world-class laboratories and facilities. We've got a printable map (PDF) for you and an interactive map of the Ann Arbor campus. We also have a map for getting around Ann Arbor.